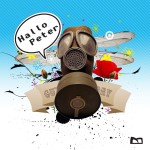 This album popped up at Jamendo when I was searching for free Breakbeat music. This genre is most prominently occupied by artists like The Chemical Brothers or The Crystal Method. While there are some similarities, the obviously German artist of this release has his own characteristic style. The essentials are all there: punching drums, ultra-cool bass riffs, synthetic sound effects. But as I said, something is different:
I best start by describing my favourite track Energize: it does not only have a good start, a solid build-up of percussion and chords until the first climax resulting to the punchy refrain. It features an exotic-sounding (Turkish, maybe) melody that makes this song very special.
But I should mention the other nice tracks, too: The opener Travelling gives a great outlet of Peter's skills: simple, conventional, to the point. Some drums set up the beat; when the stage is set some bass tune slowly evolves and becomes more and more rythmic over time.